Allcomp – Unicut
---
CUTTER UNICUT ONE.5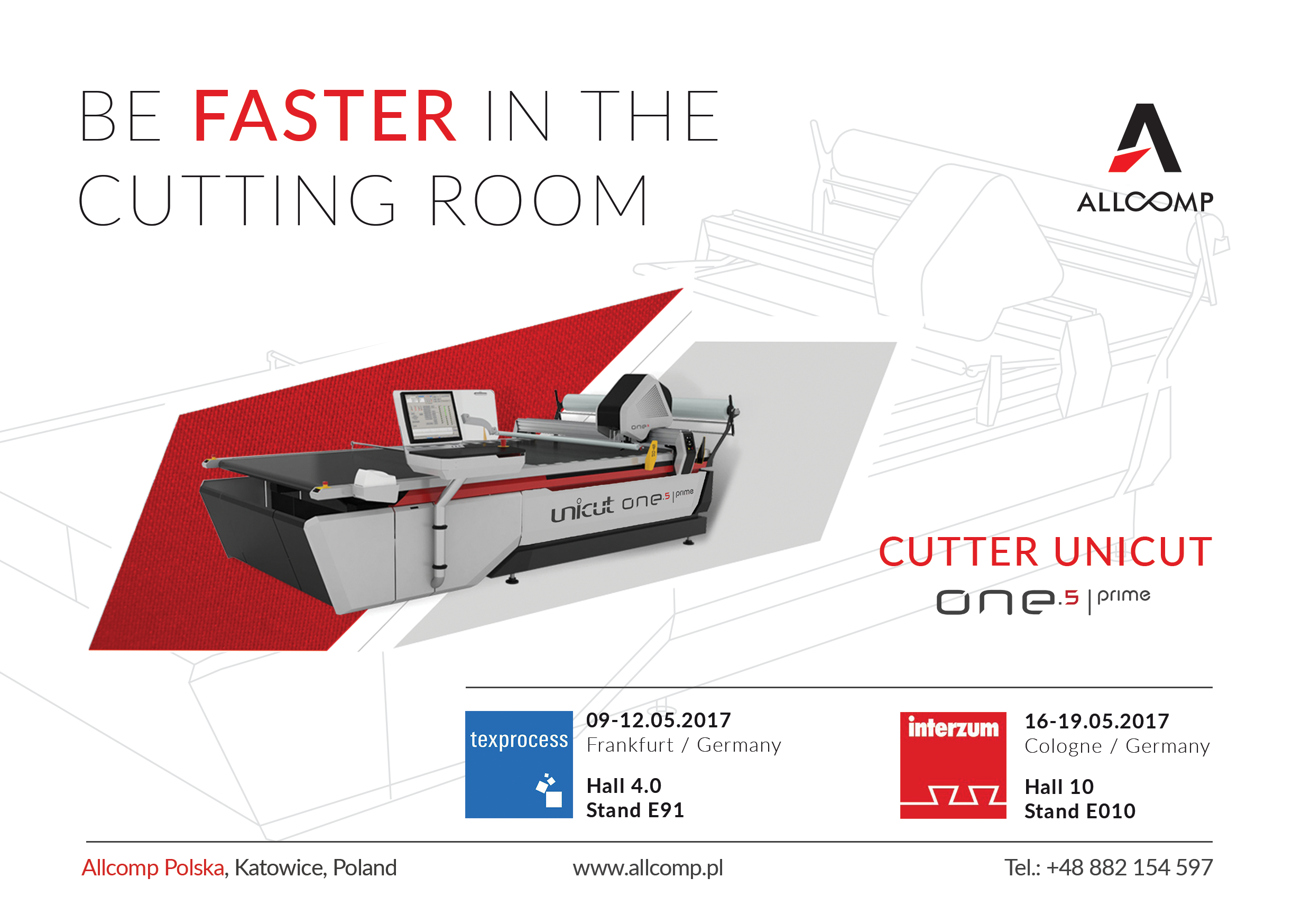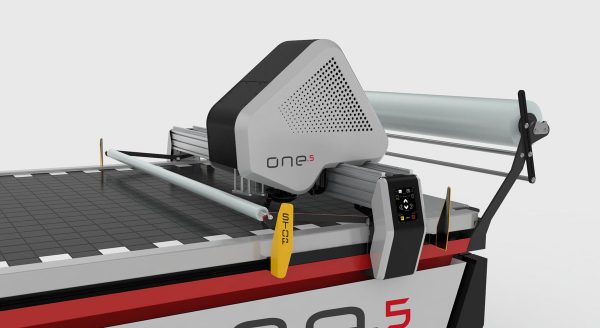 CUTTING HEAD
New, lighter structure of head casing made of composite material increases cutting dynamics and at the same time dampens vibrations increasing the comfort of operation
Special sharpening system increases cutting efficiency by extending the knife service life by additional 50%
Additionally the reinforced head increases the cut precision
The possibility of adding drills equips the device with additional hole cutting options, with different diameters of up to 20 mm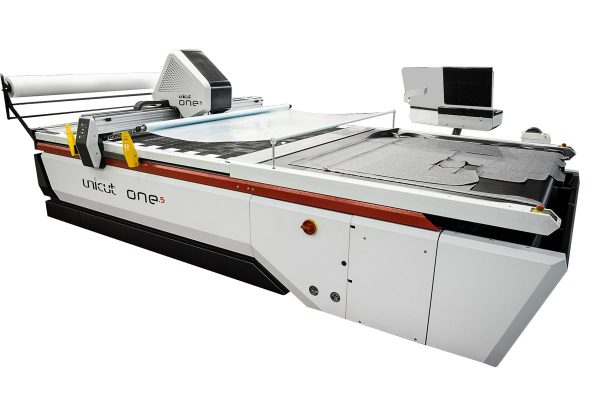 NEW CASING AND INTERESTING DESIGN
The breakthrough design of the machine foreshadows the evolution of the concept in direction of global data exchange
The steel structure of the machine is an uncompromising approach towards the heavy duty conditions of operation
Stable construction secures safety and durability, limiting possible mechanical damages
Possibility of installing an air duct chimney leading the air from the machine to external fan
USER-FRIENDLY TECHNOLOGY
As expected by our customers both operating the machine and its technical maintenance and servicing are easy and intuitive.

The machine is designed in such a way as to provide easy access to all components and allow efficient technical maintenance.
STANDARD MODULES
CVA (CUTTING VACUUM ADJUSTMENT)
infinitely variable vacuum force adjustment – allows the change of suction force adjusted to the specifics of the material, which
is crucial in case of elastic, delicate and knitted fabrics.
CCB (CUTTING COVER BLIND)
Covering system for cut elements – additional covering system that allows for stable vacuum levels during cutting.
DRILL
Standard drill
E-SERVIS
Remote technical support – a module that allows for remote verification of the technical condition of the device and service events
ADDITIONAL MODULES
LABELLING SYSTEM
Labeling system – label printer allows for marking of the cut elements, synchronized with the cutting process and the OV option that allows for identification of cut elements.
MMS (MACHINE MOVING SYSTEM)
System for moving the machine between cutting tables – allows the operation with use of multiple cutting tables.
PMS (PATTERN MACH SYSTEM)
System for fabric cutting with pattern report utilizing head mounted camera
COOL KNIFE
Knife air cooling system – essential for cutting melting materials
DRILL 1+1
Additional drill option, compatible with the ISO cutfile standard. All additional tools are installed in the Tools Shell spot of the header. Increases the demand for compressed air.
HEAVY DRILLS
Possibility of installing a drill at the back of the head – with different drills – holes of up to 20mm diameter (with drill self-cleaning system). Increases the demand for compressed air.
WI-FI CARD
Wi-Fi adapter – for wireless network connection
RAPORT PRO
Pro report, additional reporting module. Software for creation of different sets of cutting process reports that can be automatically sent, via network, to the person in charge.
MARK EDIT
Cutting layout editor, allows for editing and amending sets and import of sets for other CAD systems.
AC (AIR CHIMNEY)
Chimney duct that pushes the air outside the machine.
OV (OFFLOAD VIEW)
Additional LCD screen in reception area with an imaging module that shows the location of ready cut elements.
BAR CODE
Option, allows barcode readout from production orders.
VSS ( VISUAL SORTING SYSTEM)
Element sorting system – the projector displays the cut elements on the material, allowing for identification of ready elements in the receiver area.
---
SPREADER UNICUT AERO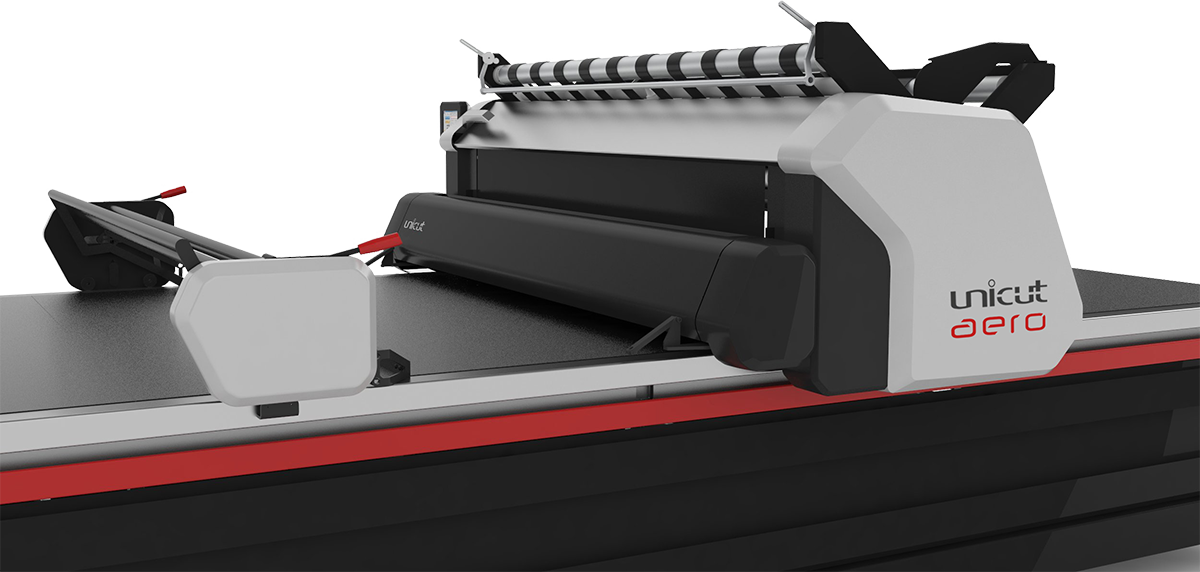 MATERIAL SPREADING
In order to eliminate the risk of raw material losses the fabric is secured against uncontrolled movement
The knifer cuts the material both in case of right and left side movement
Special optical sensors secure the precision of cuts
Automatic blade sharpening system allows for optimal use of the fabric
DURABILITY AND DESIGN
In order to secure the continuous operations the sizing machine were constructed with use of special purpose composites, chosen in such a way to secure years of operation in manufacturing conditions
Optical safety system secures safety of the operator
In order to secure highest operational standards the construction is based on non-deformable steel profiles.
ADDITIONAL MODULES (AERO 100, AERO 200)
UNWINDING ROLLS LEFT/RIGHT
It allows the operator to decide whether a material should be unwound the right side up or down.
IMMOVABLE BRACKET
Used with zig-zag option
ZIG-ZAG
It allows to spread material with the right side facing each other while riding back and forth without cutting material
OVATTA OPTIMISATION
Specially widened cradle for rolls of the diameter bigger than 60 cm. It allows to spread materials like ovatta, foam etc.
BEAM FOR FRAGILE MATERIALS
System for spreadnig particularly fragile materials. It prevents material from tucking.
ADDITIONAL MODULES (AERO 100)
LOADING LIFT INTEGRATED WITH SPREADER
The lift integrated with spreader. Dedicvated to load standard rolls up to 100 kg. The lift is moving together with spreader. It excludes possibility to use ovatta option (ovatta option can be used with a stationary lift). With rolls up to 600 mm is a standard option. With rolls up to 1100mm is a additional option.
---
Ask for more information!
[contact-form-7 404 "Not Found"]