Rexel
Cutting room tables
3 cutting table is basic cutting room equipment in tailors' and upholsterers' shops. The modern and revamped construction was presented for the first time at the "INTERMASZ" fare, March 2008. The whole construction is made of closed steel profiles ensuring proper durability and stiffness. The work-top made of 25 mm chipboard with edges covered with aluminum angles that guarantee durability. Steel powder coating adds the elegant look of the whole construction. The SK-3 cutting table consists of modules and can be quickly and easily extended at any time. You can also adjust the table height (to some extent) and level it using adjusting screws.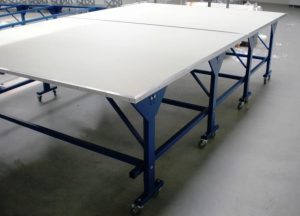 Specifications:
Standard width of table: 1,83 m – 2,07 m.
Height of cutting table: 90 cm.
Each following section increases the cutting table by: 1,1 m
Available lenghts: 2,8m, 3,9m, 5m, 6,1m, 7,2m, 8,3m, 9,4m, 10,5m, 11,6m, 12,7m, 13,8m, 14,9m, 16m.
---
Fabric-inspection machines
FABRIC REWINDING AND CUT-TO-LENGTH MACHINE CTLR-2000
Machine is designed to cut exact length and winds fabric onto a core.
Best suitable for non-elastic fabrics.
Fabric edge sensor for even edge during rewinding.
After exact length is measured the automatic rolls stop and knife cuts through fabric.
Speed is adjustable on front and back feed rollers.
Machine can be produced with different specifications.
Control panel is installed on swivel arm ensuring easy operation.
Control panel has high quality touchscreen.
User-friendly interface available in Polish, English or Russian (other languages upon request).Specifications:
Roll maximum width: 1700 mm (66.9")
Roll maximum diameter: 360 mm (14.7)
Roll maximum weight: 40 kg (88.1 lbs)
Overall dimensions (LxWxH): 2858 mm x 1383 mm x 1935 mm (112.5" x 54,4" x 76.1")
Voltage: 230 V AC
Power: 0,65 kW
FABRIC REWINDING-INSPECTION MACHINE PP-3L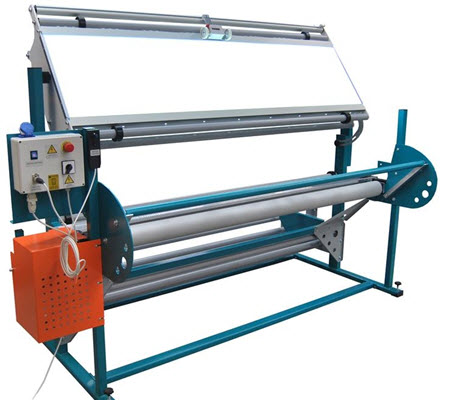 Rewinding / inspection machines with backlighting screen provide fast, easy quality control and measure fabric length.
Machines can have a built-in lay manual (version /R) or semi-automatic (version /A) end-cutter for increased efficiency in the workplace.
A perfect choice for all textile manufacturers and businesses that deal with any kind of fabric.
The machine winds fabric from a roll placed inside the cradle on a core placed on a winding shaft.
High winding speed (50 m/min or 60 m/min).
Mechanical counter (yards or meters).
Easy fabric roll installation.
Frame made of powder-coated steel.
Available models:
PP-3L Standard rewinding-inspection machine with backlight and winding unit (from the roll cradle onto the tube), and length measurement device.
PP-3L/R Additionally equipped with manual fabric end cutter OT-1/R.
PP-3L/A Additionally equipped with semi-automatic fabric end cutter OT-1/A.
Specifications: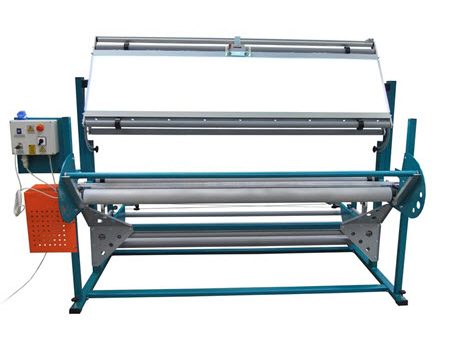 Model: PP-3L
Maximum width of fabric roll: 190 cm (74,80″)
Maximum roll diameter: 50 cm (19,69″)
Maximum rewindable weight of roll: 40[kg]
Voltage: 230[V]
Wattage: 0,35[kW]
Maximum winding speed: 50-60 m/min
Screen size: 200 x 50 cm (78.74″ x 19.68″)
Screen: Yes
Сounter for yards or meters: Yes
Cradle for roll: Yes
ULTRASONIC MANUAL CUTTER FOR TEXTILES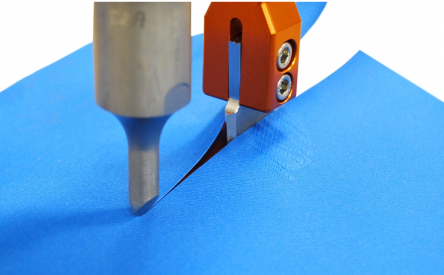 Suitable for cutting plastic films, cloths made of soft thermoplastic materials or synthetic fabric.
Convenient cutter holder with rollers under foot.
Controlled by a button on the handle.
The generator automatically adjusts the output power level.
Ultrasonic cutting allows to seal fabric edge, which prevents fraying.
The knife is ready for use immediately after the generator is turned on, one has to press a button on the handle and start cutting.
Ultrasonic cutting is safe with no emissions of cutting fumes such as smoke or toxic fumes from textiles.
The cutting tip does not need to be cleaned.
Built-in ventilation prevents generator heating during continuous operation.
The unit is very energy efficient.
Power output indicator is on the front panel of the generator.
Made in Italy.
3 year warranty for generator.
Specifications:
Frequency: 40,000 Hz
 Power: 400 W
Voltage: 230 V
---
TKT Plotter
The UWP (Ultra Wide Printer) DOT plotter series from tktbrainpower includes the ultimate in inkjet technology electronics, software control and cutting-edge long-lasting distinguished European design.
Plug&Print
One step auto-install function for small groups or individual users.
GroupManager
Network and FTP printing queues with extended multiple functions.
High Precision Speed Printing
Two (2) or four (4) inkjet printing heads. Is ideal for dimensional control & cutting quality control.
Ink Jet Cleaning & Parking zone
20 cm

CAD suitable systems: Assyst, Astor, Bullmer, Commtese, FK, Gerber, Inventex, Kuris, Lectra, Morgan, Novo Cad, Optitex, Orox, PAD, Pathfinder, PolyPattern, Rus Cad, Stylecad, Vetigraph, WEAR cadfè, etc.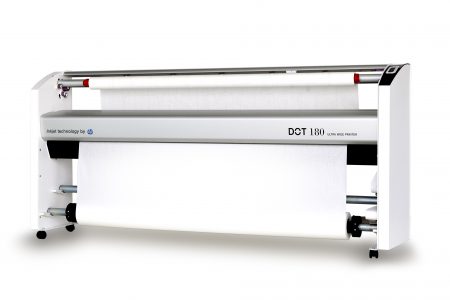 Power consumption 70W
Power supply 100-260 V auto switch
Interface USB 2.0 / Lan
Inkjet technology HP 1645 or compatible | Xaar
Inkjet heads HP 1 / 2 / 3 / 4 | Xaar
For plotter papers Starting at 20 gr/m2
Noise level < 40 dB
File formats accepted HPGL / HPGL2 / ISO / AAMA-ASTM
Software requirements Windows 10, 8, 7, Vista 32 bit / 64bit
Package dimensions (mm) 2620 x 640 x 556
Weight 123 kg
Movable on wheels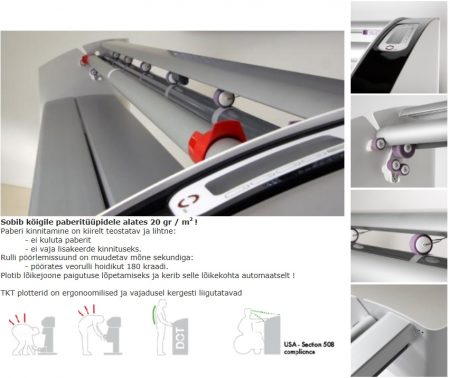 The ergonomics and the extremely user-friendly operation represent a new standard which are not previously encountered in conventional designs. The DOT Series allow users to operate the large format plotter (UWP) after a very short training phase. Due to the low energy consumption, silent operation and integrated quick and easy front loading system, the DOT series plotters are ideal for factory and office environments, requiring less space and electricity.
---
 Ask for more information!
[contact-form-7 404 "Not Found"]