Steam generator FB / F 2-stand
Steam generator with 7 liters capacity. It is designed to produce steam needed in the process of clothes ironing in factories, laundries, hotels, hospitals, etc. The steam generator has two outputs with valves for connecting two or more irons.
SPECIFICATIONS:
Power supply 3 * 200/380 V
Boiler capacity generator 7 L
Heater power 4 kW
The design pressure of 0.5 MPa – due to technological it is recommended to use the working pressure in the range of 0.25 – 0.35 MPa
Capacity max. 6 kg steam / hour.
Engine power 0.5 kW centrifugal pump
Water boiler capacity 0.0064 m3
Total weight 63 kg
Price is without irons.
Category:
Ironing equipment
Product Inquiry Form
[contact-form-7 404 "Not Found"]
Next Product:
Ironing table COMELUX MAXI A
Previous Product: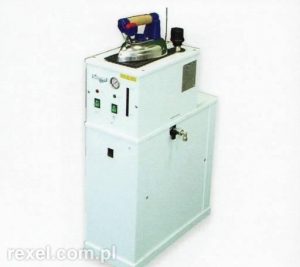 Steam generator PRATIKA KPL