Cutting table for roller blinds UK-1 ECO
Cutting table REXEL UK-1 ЕСО is designed for cutting roller blinds.
The equipment includes:
– Special cutting table with smooth tabletop.
– Pneumatic clamping line
– End-cutting knife
– Material feed device
– Measuring device.
The table has a massive steel structure that prevents any vibrations or deformations during operation. As an option it is possible to produce an illumination zone of any size. Maximum cutting length is 2.5 m. Knife operation is carried out from the remote control, lifting and lowering of the clamping line by lever. Constant blade speed is 0.5 m/s and there is no possibility of installing an ultrasonic knife at this table.
Specifications:
Cutting width: 2500 mm
Table width: 2670 mm
Table length: 2920 mm
Overall table witdh: 3280 mm
Overall table length: 3170 mm
Table height: 890 mm
Blade speed: 0,5 m/s
Knife rotation speed: 2300 rpm
Blade diameter: 108 mm
Power: 230 V
Wattage: 240 W
ATTENTION! This equipment is not available at once. It may be ordered after a thorough discussion of the customer's needs. Time of production of the table is 7-10 days.
Category:
Blinds cutting tables
Product Inquiry Form
[contact-form-7 404 "Not Found"]
Next Product: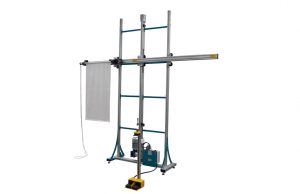 Roller blinds control lift WK-1
Previous Product: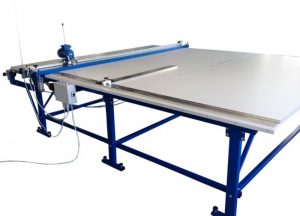 Cutting table for roller blinds UK-1 MAX